---
28 ft End Dump Trailer For Sale
28 ft End Dump Trailer For Sale
Box Shape
U shape
Box Dimension
20 Cubic meter
Payload
60 tons
Lifting system
HYVA brand oil cylinder
Frame
Q345B carbon steel material
Frame Beam
Upper and lower plate is 14mm and 16mm, double middle is 10 mm, height of mean beam is 500 mm
Steel thickness
Bottom plate 8mm, Side plate 6mm
Axle
3 axles BPW/FUWA brand optional
Landing Gear
28tons landing gear with linkage speed
King Pin
2.00 or 3.5 inch
Suspension
Mechanical suspension
Leaf Spring
90mm(W)*16mm(T)*10 Layer
Tire
12R22.5, 315/80R22.5
Color
White, black, red, yellow, green, blue etc. optional
Structural Features of the 28 ft End Dump Trailer
The body of the 28 ft End Dump Trailer is made of high-quality carbon steel, and the overall structure is strong, which can meet the transportation of various hard goods such as ores, coal or building materials.
Design Benefits of the "U" Shaped End Dump Trailer
This dump trailer is a 28-foot "U"-shaped Rear Dump Trailer with a smooth transition in the body, so when transporting small particles such as dirt and fine sand, the unloading is cleaner, reducing residue and saving labor costs.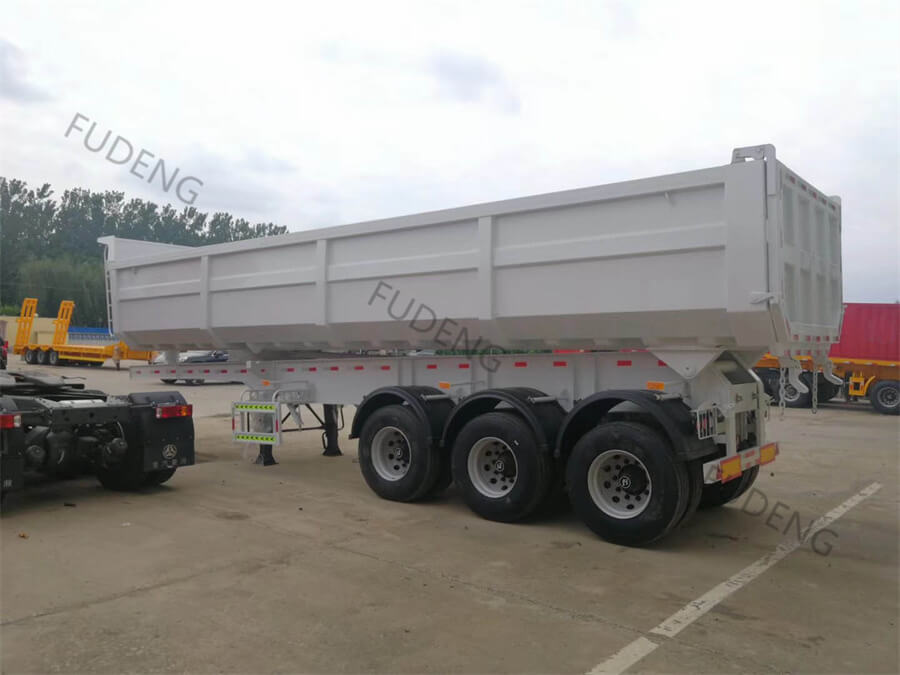 28 ft End Dump Trailer features big-name components
The main component of the 28 ft End Dump Trailer to achieve automatic dumping is the hydraulic cylinder, so it is particularly important to use high-quality accessories on the dump trailer. The 28 ft End Dump Trailer we produce all use big brand components at home and abroad, use the world famous brand HYVA brand hydraulic cylinder and JOST brand outrigger, the quality is guaranteed, and it is easier to obtain in your local area.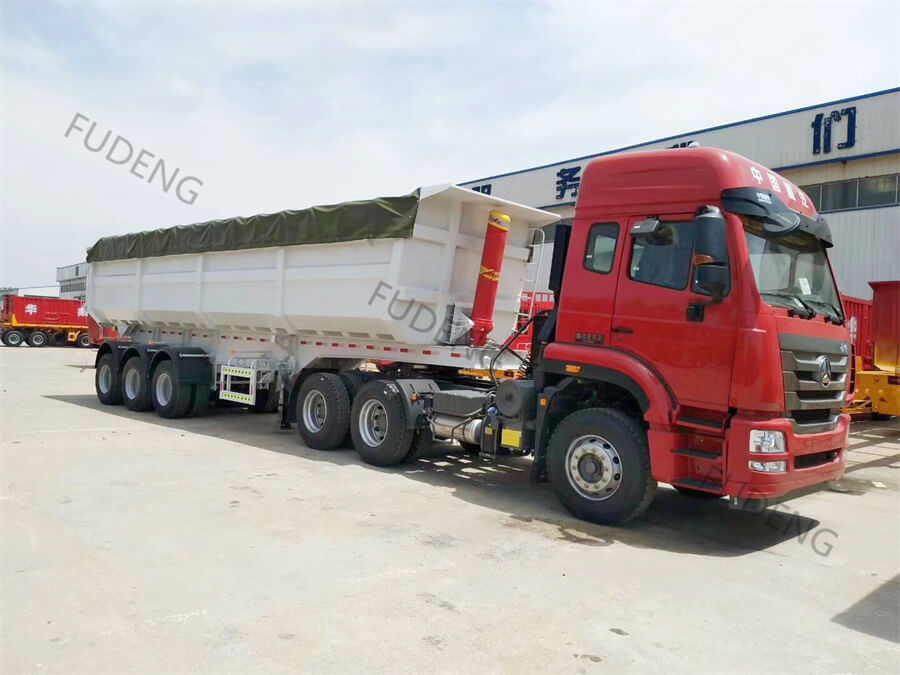 End dump trailer dimensions
Not only do the End Dump Trailers we produce come in 28 inches, we accept customization. End dump trailers of 20 cubic meters, 25 cubic meters, 28 cubic meters or more can be customized according to the carrying capacity.
28 ft End Dump Trailer Pros
The 28 ft End Dump Trailer is generally used to transport small volumes of sand and coal, but cannot transport huge stones. If you need to transport huge stones, then we can customize thickened sidewalls and bottoms for you.
Our trailer factory
We have our own trailer factory and are registered with the Chinese Ministry of Commerce and have export qualifications for all types of trailers, so you don't have to worry about doing business with us. FUDENG Trailer is one of the most famous trailer brands in the world, we manufacture and sell all kinds of trucks, tractor trucks, dump trailers, tanker trailers and more.
If you need trailer products and are looking for a reliable trailer factory or supplier, then please contact us, we can provide you with the most professional and satisfactory service and the best quality products.