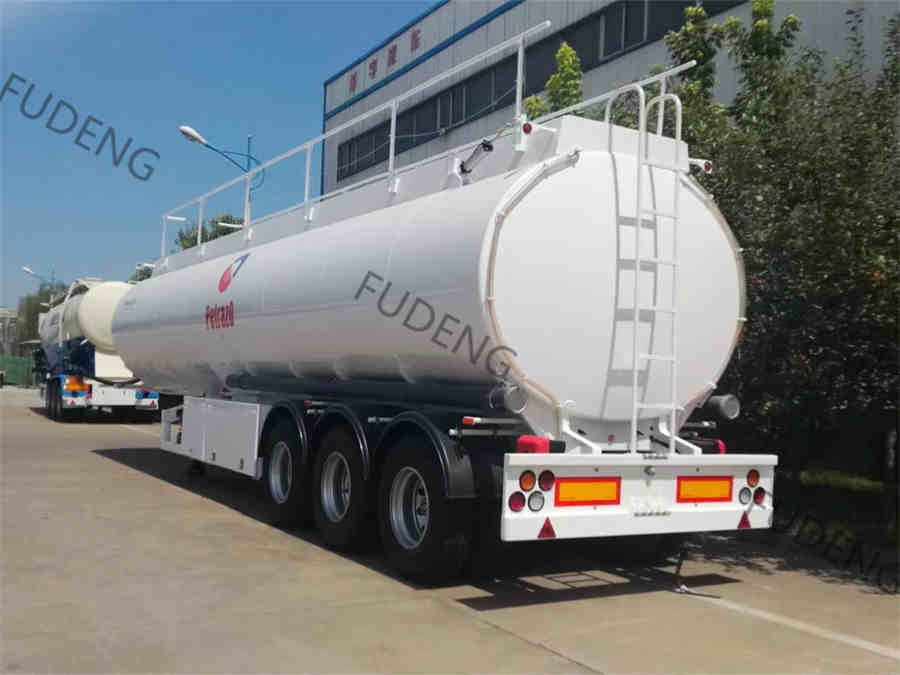 Introduction to Aluminum tanker trailer
Fuel tanker trailer can be divided into carbon steel tanker trailer and aluminum tanker trailer according to material. Although the aluminum tanker trailer is more expensive than the carbon steel tanker trailer, the application field of the aluminum tanker trailer is wider than the ordinary carbon steel tanker trailer, and it has more advantages and advantages in terms of light weight and quality. And due to the metallic properties of aluminum alloy, the aluminum tanker trailer is more resistant to corrosion.
Fuel tanker truck specifications
| | |
| --- | --- |
|  Manufacturer |  FUDENG AUTOMOBILE |
|  Item |  Aluminum tanker trailer |
|  Fuel Tanker  dimension |  11600*2500*1800 (Reference, customized according to needs) |
|  Fuel Tanker capacity |  45,000liters |
|  Compartment |  2-10 |
|  Payload |  35T (Reference) |
|  Fuel Tank trailer weight |  7.5T |
|  Material |  aluminum |
|  Chassis |  High Strength Steel |
|  Valve |  API or standard |
|  Axle |  2/3/4 axle; BPW, FUWA, L1, |
|  Suspension |  Air suspension, Mechanical, Bogie |
|  Brake system |  Dual Line brake system, T30/30 Chamber, Wabco emergency valve, ABS/EBS optional |
|  Fuel Tanker Trailer  Parts |  Mudguard, Ladder, 1 standard toolbox, 1 coat of anticorrosive prime, 2 coats of final paint, Polyurethane paint, Landing gear, 9.0-22.5 steel wheel rim, Fire extinguisher, 4-inch Pneumatic bottom valve, 500mm Aluminum alloy manhole cover, Q345/6mm steel sheet, conforming ADR (According to customer needs) |
|  Application |  Fuel, Oil, Crude Oil, Diesel, Petrol, Petroleum, Gasoline |
Advantages of Aluminum tanker trailer
The aluminum tanker trailer tank body is made of high-quality aluminum alloy, and adopts advanced technology and strict production process. Our aluminum tanker trailers have reasonable structure, reliable performance and beautiful appearance. The skeleton is made of high-quality steel, which not only reduces its own weight, but also is more durable. Parts and components use well-known brands at home and abroad, and are purchased, inspected and used in strict accordance with the requirements of the quality system documents to ensure the good performance of the aluminum tanker trailer.
Features
1. The tank body is made of aluminum alloy material, which is widely used and can be used to transport more than ten kinds of oil products. And accept customization.
2. There are multiple anti-wave boards inside. Ensure safe and stable transportation.
3. The body and the frame are completely matched and calibrated, the connection is firm, and it is not easy to fail.
4. Using laser welding fixed-point welding, strong welding force and beautiful welding seam.