---
Tri Axles Low Bed Trailer
Tri Axles Low Bed Trailer Versatility
China low bed trailers are incredibly versatile. The various industrial sector can use this equipment to facilitate the movement of heavy and over-width cargo. Hefty machinery which needs an extra width for loading can be accommodated on this trailer. As per your requirements and specifications, you can ask your supplier to modify the low bed trailer's structure for extra space.
Tri Axles Low Bed Trailer Stability
The stability factor of tri axles low bed trailers makes them a popular piece of equipment in the marketplace. This low bed trailer's consistent stability renders it suitable for everyday use as it keeps the cargo stable even when it is mobile. It is used for transporting heavy cargo and for tracking purposes. Fudeng triaxle low bed trailers are heavy-duty vehicle. It can easily transport heavy, comprehensive, and tall cargo from one place to another. The strength can be maximized by increasing the width of the support base. This low bed trailer's cargo platform is positioned to lower the cargo centre's height, hence increasing the stability of the loaded goods during transportation.
Low bed trailer is widely used in different sectors because of their advantages over other heavy transporters. One of the ways of increasing stability is widening the base of support. This is possible with low bed trailers because the cargo plane width can be widened. Our low bed trailers remain stable on the road irrespective of the height and weight of the machine.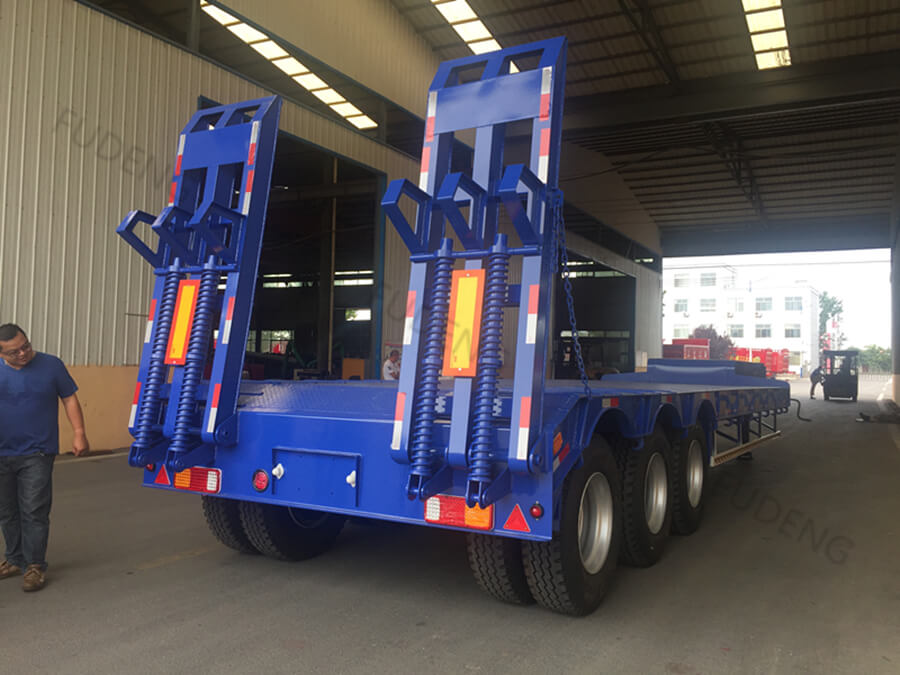 1. The main frame of china lowbed traileris made of Q345B high-tensile steel, reasonable structure, superior carrying capacity and no permanent deformation; It can be reinforced according to using requirement.
2. National level welding supervisor, meanwhile cooperate automatic welding machine, and more 30 minutes per process than normal welding time, ensure the best welding results for low bed semi trailer.
3. China low bed trailer adopts heavy goose neck structure, provides lower transport center of gravity and smoother travel, ensuring safe transportation of low bed semi trailer and cargo and maximizing safety.
4. World famous brand spare parts, such as BPW axle, JOST landing gear and WABCO brake system, ensure high quality and save maintenance costs.
We understand it's important to choose the very best low bed semi trailer. We are top semi trailer factory in China which has manufacture high quality trailers more than 20 years, welcome to check out the best tri axles low bed trailer from Fudeng!