4 Axle Lowboy Trailer Description
Are you in need of a reliable and robust transportation solution for heavy-duty machinery and equipment? Look no further! Our 4 Axle Lowboy Trailer is designed to handle the most demanding hauling tasks, providing you with a secure and efficient means of transporting heavy tractors, buses, special vehicles, and more.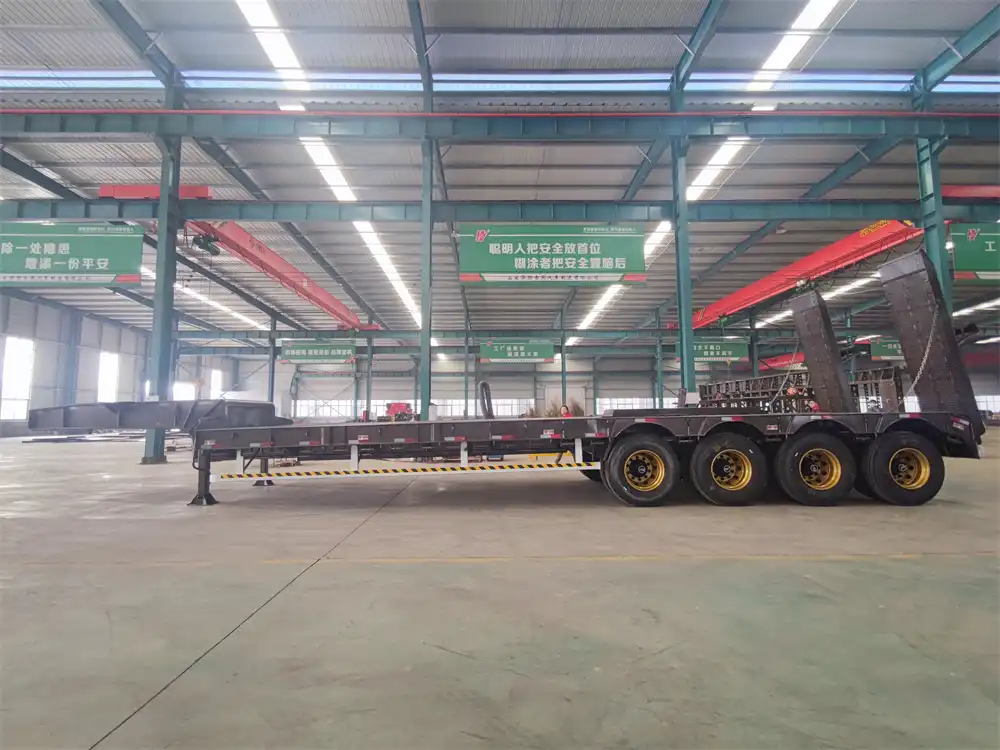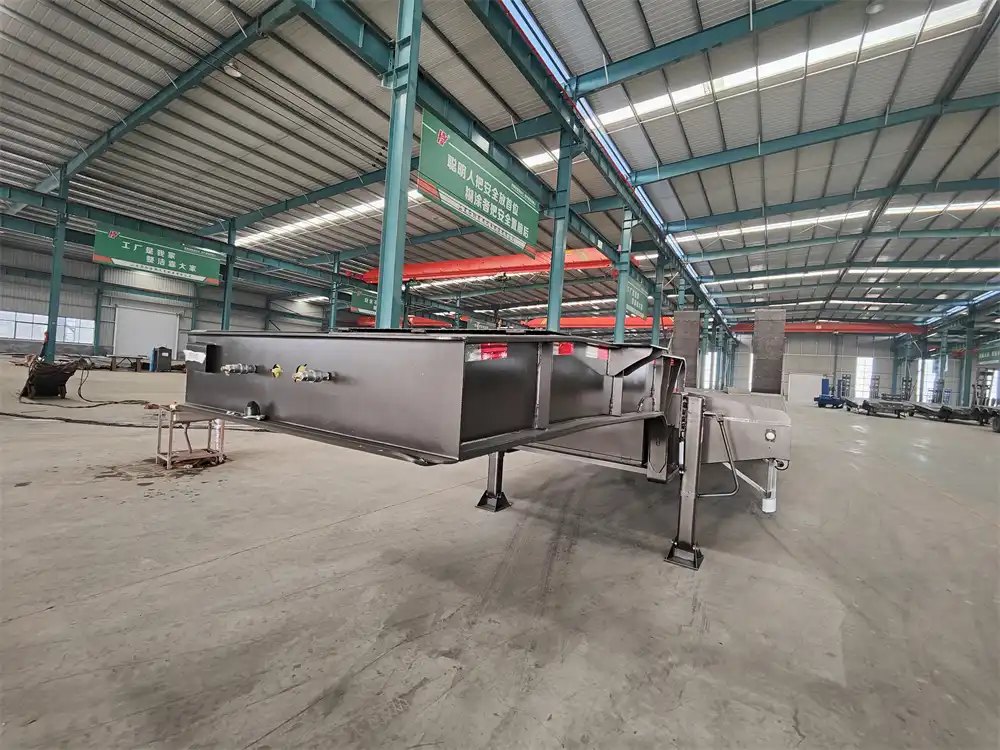 4 Axle Lowboy Trailer Specifications
4 Axle Lowbed Trailer Specifications
Dimension
13000×3000×1750mm
Payload
60-100T
Bottom Platform
4 mm thickness
Main beam
Q345B carbon steel, "H" beam
Frame beam
Top Flange 20mm; Bottom Flange 25mm, Middle Flange 12mm;
Ramp
Mechanical or hydraulic ladder
Axle
3 axles 13tons BPW and FUWA
Landing Gear
JOST brand 28T lifting capacity with two speed
King Pin
2.00 or 3.5 inch
Suspension
Mechanical suspension
Leaf spring
90mm(W)*16mm(T)*10 Layer
Tire
315/80R22.5, 12R22.5 or others
Color
Optional
Reliable and Versatile Transportation Solutions
Unmatched Stability and Safety
When it comes to transporting heavy goods, stability and safety are paramount. Our 4 axle lowboy boasts a low center of gravity, ensuring excellent stability during transport. With a reinforced chassis and advanced engineering, you can trust our trailer to deliver exceptional safety standards, giving you peace of mind throughout your journey.
Designed for Heavy Machinery
From rail vehicles to mining machinery, forestry equipment, and engineering machinery, our 4 axle lowboy trailer is built to accommodate a wide range of heavy-duty equipment. Its robust construction and reliable performance make it the perfect choice for transporting excavators, bulldozers, loaders, cranes, and more. No matter the size or weight, our trailer can handle it with ease.
Seamless Loading and Unloading
Efficiency is key when it comes to loading and unloading your valuable equipment. Our 4 axle lowboy trailer is thoughtfully designed with convenience in mind. You can load your mechanical equipment onto the trailer from the rear end, either by utilizing the rear wheel shelf or by removing the wheels. We understand the importance of a streamlined process, and our trailer ensures hassle-free operations every time.
Quality Craftsmanship and Longevity
Experience Unparalleled Quality with Our 4 Axle Lowboy Trailer
At our truck trailer factory, we take pride in delivering top-notch products that exceed industry standards. Our 4 axle lowboy is no exception. Crafted with precision using high-quality steel and employing advanced manufacturing techniques, our trailer offers unmatched durability, reliability, and longevity.
Superior Construction and Design
Our engineers have meticulously engineered the structure of our lowboy trailer to ensure optimal performance and longevity. The combination of superior materials, cutting-edge technology, and a strict production process results in a trailer that is not only aesthetically pleasing but also stands the test of time. With our 4 axle lowbed trailer, you can expect exceptional craftsmanship and reliable functionality.
Reinforced Thicken Gooseneck
To guarantee the longevity of your investment, we have incorporated a thicken gooseneck design into our trailer. This critical feature enhances structural integrity and extends the service life of the trailer. No matter how challenging your transport business may be, our 4 axle lowboy trailer is built to withstand the toughest conditions, ensuring a reliable and efficient operation for years to come.
Tailored to Your Needs
We understand that every transport requirement is unique. That's why our 4 axle lowboy trailer offers customizable loading deck dimensions to accommodate your specific needs. Whether you're hauling oversized machinery or heavy loads, we can tailor the trailer to meet your exact specifications. Combined with heavy-duty axles, a reinforced suspension system, and durable tires, our trailer is optimized for rough road conditions, making it the ideal choice for your operations in Africa.
Partner with Us for Your Transport Business
If you're searching for a reliable partner to meet your transportation needs, you've come to the right place. At our truck trailer factory, we pride ourselves on delivering exceptional products and establishing long-term partnerships with our clients.