Aggregate Tipping Semi Trailer Features:
1. Apply to the transport loose cargo light, soft, with a low center of gravity and light weight, the quality of the utilization factor, carrying capacity and other characteristics.
2. Overall assembly and disassembly convenient, can be more than one car, van, car warehouse gate, tailgate car at the same time.
3. Innovative design, tailored to local transport environment analysis on the basis of full understanding of, learn from the advanced design concept, many innovative.
4. Advanced means of production technology and perfect testing equipment to protect the the product overall structure is reasonable, reliable performance.
5. Frame body Q345B high strength structure steel, automatic submerged arc welding throughout beams, and other cross-section main stringers structure for optimum carrying effect.
6. Well-known brand axles, suspension systems, high performance, and reliable to use, to ensure the good performance of the vehicle.
7. Full braking and electrical systems at home and abroad in accordance with ISO standard, optional ABS system, braking, lighting is absolutely safe and reliable.
8. Frame overall spray primer treatment, paint spraying fine surface quality of maritime anti-corrosion standards.
Tool box under the trailer chassis
Strength spring suspension suitable for rough road condition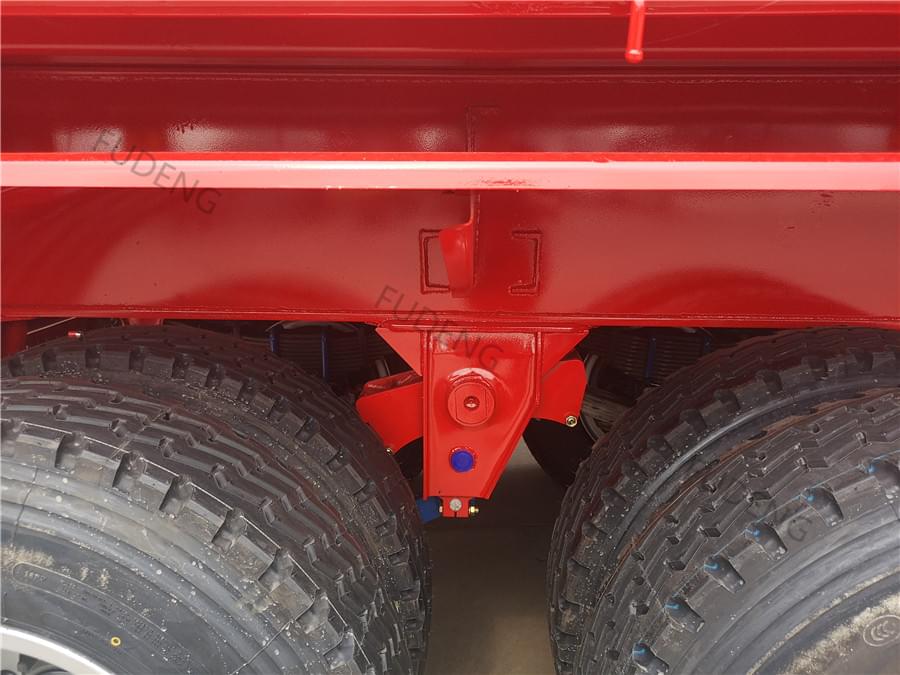 Specifications
Dimension
9.8m*2.5m*3.15m (Outside) Or Customized
Box Dimension
9.2m*2.4m*1.8m
Volume
40cbm
Tare weight
About 11.0T
Hydraulic system
Full set of 196 hydraulic system,HYVA brand
Main beam
The height of the beam is 500mm,Upper plate:14mm,Down plate:16mm, Middle plate double 8mm
Thickness of the bottom plate
10mm
Thickness of side plate
8mm
Tailgate
One-piece tailgate with upper articulation, safety lock system
Axle
3pcs 14ton axles
Landing Gear
28Ton, JOST brand
King Pin
2.00 or 3.5 inch bolt-in king pin
Suspension
Mechanical suspension
Leaf Spring
90mm(W)*16mm(T)*10 Layer
Braking System
3 axle Synchronous valve, 6 Big Air Chamber
Tyre
315/80R22.5*12pcs
Spare wheel carrier
Two
Voltage
24V
Shipping Terms
By Bulk Cargo/RORO
For your customized high quality rear Aggregate Tipping Trailers, please send your request now !